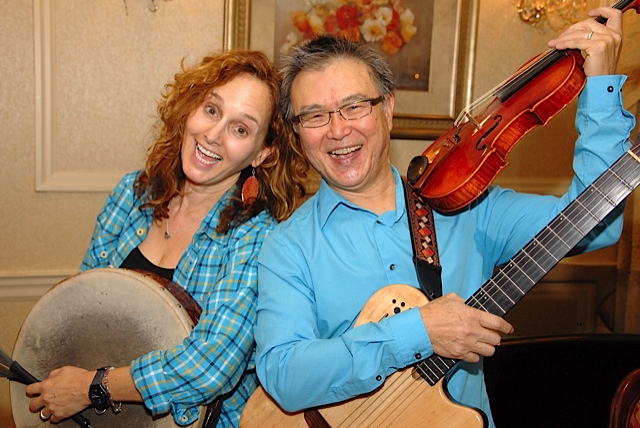 About Margot and Aidan
Aidan Mason
Aidan Mason was born and raised in South Africa and came to Canada in 1973. Three years after his arrival he was hired as Anne Murray's guitarist and background singer. He toured and recorded with Anne for over 32 years until she retired in 2008. Since then Aidan has kept active producing, composing, and performing music in the Toronto area. He is known for co-writing "Love to Live in Toronto", the winning song in the 2009 Toronto Song Competition and has produced and composed numerous radio jingles. Presently, aside from playing jazz/funk guitar in various configurations around the city and studio recording and jingle writing, Aidan sings and plays in the duo "Fit as a Fiddle" with his wife Margot Glatt. They have been entertaining the 55+ crowd and family audiences across the GTA and throughout Ontario since 2004.
Margot Glatt
Ottawa born singer, songwriter, and percussionist Margot Glatt studied music at the Berklee College of Music in Boston and went on to graduate from the Music Industry Arts Program in record production at Fanshawe College in London, Ontario. Her early years as a record producer eventually launched her into the world of television as a children's music lyricist and composer. Margot's 2009 children's CD "Around The House with Maggie G." — featuring all original compositions — garnered her a nomination for Canadian Folk Music Association Album of the Year. Putumayo Records featured one of her songs "Let's Bake Cookies" on the internationally released children's CD Picnic Playground. Currently, in addition to performing live and songwriting, Margot teaches "Swingin' Fitness", an older adult music and dance inspired exercise program she created.
Contact Margot and Aidan
For availability, bookings and additional information please contact Margot and Aidan using the form below or by phone at 416-823-8577.